Subscribe to the Newsletter
Subscribe to the newsletter to get quarterly updates from Corinne Arrowood about new releases and what she's been up to lately. You'll also get access to short stories and drafts directly from Corinne. Plus, new subscribers will recieve a FREE download of the Prequel to the Censored Time Trilogy!


The Censored Time Trilogy
The Censored Time Trilogy by Corinne Arrowood, is a steamy New Orleans romance filled with murder, suspense, betrayal, and corruption, as well as great food, fabulous restaurants, and the intoxicating culture that screams N'Awlins, baby.
Rainie, a thirty-three-year-old businesswoman from the upper echelon, presents a model picture of success and stability during the day while living life on the wild side with drugs, excessive partying, and scandalous behavior at night— as a result of insecurities brought on by her husband's infidelity. Due to her precarious lifestyle, Rainie finds herself as a witness to cartel activity by being at the wrong place at the wrong time.
All the while this drama plays out, she's been in a platonic relationship with one of New Orleans' leading plastic surgeons, Dr. Michael Landry. Things between the two heat up the night of his party, and while sparks fly and the sizzle begins, their relationship ignites, bringing them close, developing into a forever kind of love.
From the beginning of the Censored Time Trilogy, questions arise, and by the end, with parting words from Rainie, all mysteries are solved, but it's not until the very end...so hold on tight!
Recent News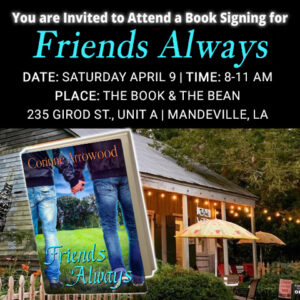 Book Signing!
You are invited to a book signing for "Friends Always" on Saturday, April 9 from 8-11 AM at The Book and The Bean. Get your paperback or hardback book and have it signed by Corinne Arrowood.
Saturday, April 9 – 8-11 AM
The Book and The Bean
235 Girod St, Unit A
Mandeville, LA