Half Past Hate
Censored Time Book II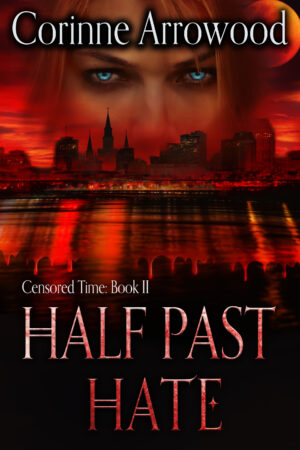 August 10, 2021

…Rainie and Michael's burning love escalates to greater heights in Half Past Hate, the second sizzling romance story in the Censored Time Trilogy. It kicks off with an apprehensive Rainie stalling for the final "I do," as her parents, his parents, and the guests wait on edge. Will she accept Michael's love or deny herself a forever kind of happiness?
The touch of Michael's hand to hers caresses a soft seal to her vows as she utters, "I do." The happy couple prepares for a magical honeymoon aboard a sailing schooner in the crystal waters of the Caribbean. Rainie and Michael's love abounds, making it impossible not to fall deeper into their fun, heartwarming, and sensually titillating love story.
But, back in New Orleans, the cartel is alive and well and has taken on the appearance of legitimacy inside the law offices of Tolbert, Thibeaux, Smith, and Todd. Tom Todd, Rainie's ex-husband, is the newest partner in the firm. A position he acquired in exchange for his silence after stumbling upon questionable business practices involving bundles of cash. Little did he know how treacherous this misstep would be and the consequences to follow.
Where will all this lead? What kind of impact will it have on Rainie and Michael? Danger, danger everywhere! Join in the wicked tale that can only be described as HALF PAST HATE.

Other Books in this Series